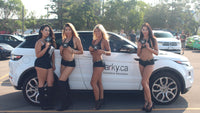 About Us
 We have a passion for cars, customization and innovation. 
We love custom plates here at Karky, and we want to create a line of accessories that caters to those who share that passion. Every plate has a meaning or a message behind it, and its the first thing that people notice about your car.  
Thank you for supporting us in creating a line of automotive accessories that is truly unique.